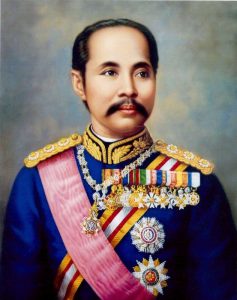 HISTORY of Uttaradit School
In 1901, King Rama V visited Uttaradit. Back then, the centre of Uttaradit was Pichai City. King Rama V found that Bangpho, Uttaradit was a very prosperous city and it was the centre of business in Northern Thailand. The cargo ships from Bangkok and the south brought goods to Bangpho, Uttaradit and exported them to many cities in the north including Chaing Tung, Chaing Rung, Chiang Rai, Chiang Sean and Luang Prabang. At that time, Uttaradit was one of the most prosperous ports in Thailand.
King Rama V thought that Uttaradit was going to be one of the most important ports in Thailand, so he decided to move the centre of Uttaradit from Pichai city to Bangpho city. As Bangpho city was
steadily progressing, it was renamed
"Uttaradit".
In the reign of King Rama V, the visionary king, His Majesty had great ideas for education in Thailand. He supported and created opportunities for all Thai people to study. Therefore, he established the Ministry of Education to control and develop the Thai educational system.
In 1907, there were big changes in the Thai education system as King Rama V made new policies to establish schools throughout Thailand.
In 1909, the educational personnel in Uttaradit followed His Majesty's policies by establishing a school at Tha Tanon Temple, called Tha Tanon Wittayakom School.
In 1928, Tha Tanon Wittayakom School was relocated, it was situated in the area, near Tha Tanon Temple, the area of Anuban Uttaradit School.
Then in 1941, Tha Tanon Wittayakom School was relocated again, and moved to 15 Prachanimitr Road, Meuang, Uttaradit and was renamed as Uttaradit School and has remained "Uttaradit School" as it is now called.
Uttaradit School is government school and is the most famous school in Uttaradit. Uttaradit School has been given the Royal Award for the years 1991 and 2001 as one of the best high schools in the country with a large student body.